RAYMO'S RAMBLINGS – CHRISTMAS EVE TRADITIONS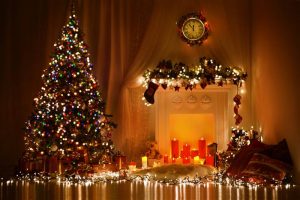 CHRISTMAS EVE TRADITIONS
It seems everyone anticipates December 24th because it is a special day to spend with family. Christmas Eve is a quiet night. Not much happening as far as activities in the community. All businesses are usually closed; people are snuggled in their homes.
'twas the night before Christmas and all through the house, all sorts of memories were being made! Christmas Eve is the perfect night to spend time as a family having fun, laughing and remembering what this holiday is all about. You probably have some family Christmas Eve traditions of your own that you look forward to year after year. I would like to share with you some of our family traditions that we have carried on.
In our family it is tradition to attend Christmas Eve service. I grew up Catholic and I always enjoyed going to midnight mass. Roxie's family is Lutheran and the candlelight service was their family tradition. We continue to attend Christmas Eve service every year.
Another family tradition has been that the father or grandfather reads the Christmas story out of the Bible. When we are all gathered around the tree, before we open presents we read the Christmas story. Roxie and I changed that up recently and asked our grandchildren to read the story. Sometimes you start new traditions.
When our children were living at home, we started a tradition of someone taking a present under the tree. Whoever's present that was, the person giving the present would say something kind to that person, like why they appreciated them, or why they loved them.
As far as food went, Raymo family tradition was oyster stew, with lots of oysters in the stew. My mother would always invite friends and neighbors over Christmas Eve day for oyster stew. Roxie's family ate lefsa, lutefisk and ham balls.  A typical Norwegian meal. When our children lived at home we would have a large dinner. Ham, meatballs, turkey, mashed potatoes with lots of gravy, and green bean casserole. Roxie makes the kids favorite food for Christmas Eve dinner.
Another big tradition is later on in the evening our family would always play some sort of board game. When I was younger, I remember my parents and grandparents always playing cards. I hated card playing and still do. Our kids loved to play Pictionary, Scrabble, Life and Monopoly. Some of the best laughs of the night happened playing board games.
Watching a favorite Christmas movie on Christmas Eve is fun to. Our family loves to watch It's a Wonderful Life, or Elf, and Christmas Vacation. My favorite is watching the Yule log!!
It is always interesting to hear of other familie's Christmas Eve traditions. Some are very unique and would be fun to incorporate into our family. Enjoy your Christmas Eve with your family. Merry Christmas!