RAYMO'S RAMBLINGS -HOW BLOGGING HAS CHANGED ME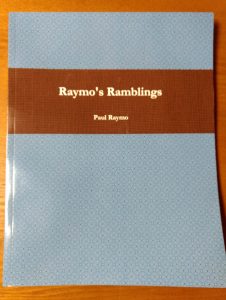 HOW BLOGGING HAS CHANGED ME
Last April, a number of friends encouraged me to start a blog. I said no a number of times. I found a number of excuses. I didn't have the desire to do so. I don't need another thing to do. I am not a good writer and why would anybody care about what I was doing or what I had to say? Plus, I knew absolutely nothing about blogging.
However, my friends were persistent. They were very encouraging. They told me I was a good storyteller and I needed to put my stories on paper. Finally, I said I would try it for a few months. Well, here we are. It is December and I am still blogging.
 Blogging is really awesome. You can blog about literally anything, and ideas for new blogs come from even the most basic of things. It is crazy how easily you can create new content and it's so much fun because of that. I never stress about a new subject, about upcoming blogs, because there is so much to write about. You really can express yourself. 
I write twice a week and release my two blogs on Wednesday and Sunday evening respectively. I have set a few blogging rules for myself. Rule number one: stay positive and encouraging. Rule number two: if I'm sharing personal information about others, get their approval before posting. Rule number three: be kind. Some people have asked me why I don't blog about politics. My answer: because it divides people. After you read my blog I want you to have a smile on your face.
How has blogging changed me? On my birthday my son, Brandon, printed all my blogs and put them into a book. It has a cover and table of contents with an introduction from Brandon. He said "I created this book so that your grandchildren and great-grandchildren can have a keepsake describing your life". How cool is that? I had never thought of that while starting my blog. I had not realized how accurately my blogs depicted my thoughts, feelings, and events throughout my life.  I would have loved to have a blog that was written by my grandfather, who I did not know very well. I could see what his life was like daily, what his thoughts were, what was important to him.
 Something special happens when you put your thoughts down on paper. Blogging has created an outlet for me to write about my experiences…blogging is a way for me to relate to others.  It has given me something new to enjoy each time I start typing up a new post.
The support I have received has been incredible. It means a lot that people take time out of their day to read my stories and I thank everyone so much for it.