RAYMO'S RAMBLINGS – CANCER DOES SUCK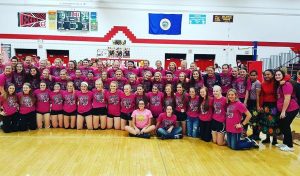 CANCER DOES SUCK
October is Breast Cancer Awareness month. I don't know or how this started, but high school volleyball teams have really made an impact in bringing awareness to breast cancer. The team wears pink, holds fundraisers at volleyball matches, encourages women to get mammograms, and helps support the women and families that are battling breast cancer.
Tuesday the Dawson/Boyd and LQPV girls' volleyball teams, combined their efforts and raised $1600 for the local LQP Hope Network. The LQP Hope Network will share the money with LQP County families who are fighting cancer and struggle to pay the bills.
This year, cancer takes on a new meaning for me. A couple weeks ago, my daughter in law, Jenny, found out that she has breast cancer. She will start chemo soon. This has devastated our family. I have watched friends and family members that I love battle cancer before, but never someone in my immediate family.
Now I get pretty emotional and pay more attention to the cancer events at these volleyball matches these past few weeks. I wear pink and donate with a new perspective. Cancer sucks. Lots of emotions run through you when you receive the terrible news. Anger, shock, sadness, worry and helplessness. It sucks, I don't know how else to say it. I think about Jen and pray for her every day!
Many of my friends and family members have gone through what Jen is experiencing. Jen is a fighter, she is one of the strongest women I have ever met. She's a military girl so you know she's tough, but she needs help while going through this. Her husband, her kids, and her family will support her during this tough time. She will beat this.
 In conclusion, I've never felt so connected to the 'DIG PINK' nights at those volleyball matches like I have the last few weeks. I pray that research can soon find a cure for this terrible disease. So, I congratulate all the area volleyball teams for what they are doing this October, bringing awareness, and raising money during Breast Cancer Awareness Month. Thank you!