RAYMO'S RAMBLINGS – THANK A VIETNAM VET TODAY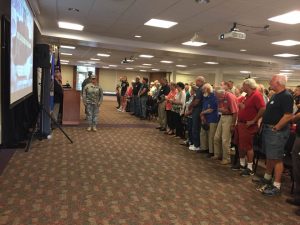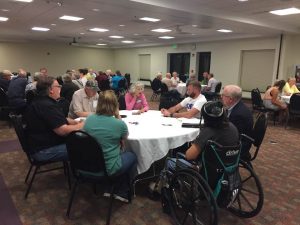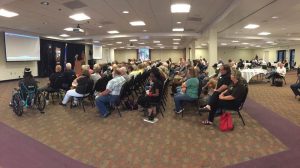 THANK A VIETNAM VET TODAY
I attended the screening of the PBS documentary (The Vietnam War) by Ken Burns at SMSU in Marshall recently. This documentary will be broadcasted on PBS stations across the country starting this Sunday the 17th.  I must say I am glad I went to this powerful documentary and participated in the small group discussion.
Many Vietnam veterans were in attendance. After viewing what the 10-part documentary is going to cover, we broke into groups with a facilitator at each table. I will admit I was going to leave after the hour long video because I had a long drive home. It was 8pm and I was tired, but Amanda from Pioneer television encouraged me to stay and take part in the discussion with the Vietnam veterans. I was very glad that I chose to stay.
I was at a table with three veterans. Three people who had fathers in the Vietnam war. None of us knew each other.  The facilitator, who was a veteran from Iraq and Afghanistan, was about 30 years old and still in the marines. One gentleman was a graduate of West Point. Charles Hettling from Minneota was also there. I had not met Charles, but had heard of him and knew he and his brother started the Vietnam War museum in Minneota. Also he was a part of the short documentary that was presented earlier that night.
The discussion started as we went around the table to share how the Vietnam war had affected our lives. I was there to observe because I serve on the board of directors at Pioneer Public Television.
 What transpired for the next hour around that table I will never forget. It was very powerful. The three veterans and three women around the table shed tears as they talked about the traumatic events that happened in their lives as the result of the Vietnam war. From verbal and physical abuse, suicidal thoughts, alcohol and drugs. I listened as each of them shared how their family was affected by what the veteran had experienced. There was a lot of pain and hurt.
 Much of the discussion dealt with PTSD and what we as a society have learned about it over the years. I learned that after the Civil War it was called "irritable heart". During WWI it was labeled "shell shock" WWII "battle fatigue", The Korean and Vietnam Wars DSM-I (Diagnostic & Statistical Manual of Mental Disturbance) and, in 1980, the term changed to PTSD.
The Vietnam vets shared how they were not welcomed back home. They hid their uniform, and they avoided talking about their experiences in Vietnam. They also talked about the healing that has happened in their lives. Charles, for example, has made over 30 trips back to Vietnam and has made lifelong friends with some Viet Cong.
After the discussion ended, I shook each of their hands and thanked them for their service. Its people like this that have made this country great. I would highly encourage everyone to attend the next screening at the Appleton VFW Friday Sept 15th at 1pm.