RARE DISEASE DAY INTERVIEW WITH BRITTANY PRIDAL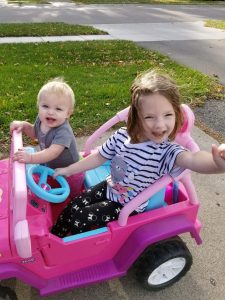 Paul Raymo interviews Brittany Pridal of Canby. Brittany is an advocate for Rare Diseases. Brittany tells us about her daughter Braylee and the rare disease she had. Thursday Feb. 28th is Rare Disease Day in the United States.
Meet Braylee; Rare Angel gained her wings at the tender age of 5.
* Diagnosed with LCHAD (long-chain 3-hydroxyacyl-CoA dehydrogenase deficiency) which is a mitochondrial condition/Fatty Oxidation Disorder that prevents the body from converting certain fats to energy due to non existing or lack of enzyme.
* Occurs 1 in 100,000 births that is genetic. No cure, No FDA treatment.
* extremely restricted fat diet, for example Braylee was allowed 7 grams of fat when she was 5 years old. The average American will consume 64 grams of fat in a day.
* due to not being able to convert fat into energy symptoms include low energy, poor muscle tone from muscle breakdown and loss of sensation in arms/legs due to peripheral neuropathy, low blood sugar issues, liver problems, light sensitivity of the eye tissue often lead to being blind, severe cardiac complications, coma and sudden death.
* lack of specialists know her disorder and lack of research leads to many unknowns.
* Had to eat every 3-4 hours to prevent low blood sugar issues, so had a feeding tube to get continuous feeding while she slept or needed emergency energy source.
* Often hospitalized in her lifetime- around 30 hospitalizations with several of them being life threatening in the intensive care unit and being flown in medical aircraft 5 times.
*High Medical costs due to frequent lab tests, appointments with several specialists, hospitalizations, medical food, and supplements.
"Braylees smile would light up the room. She knew how to love despite all of her challenges in life. She would often reminded us- It will be ok. Rare Disease Day was a special day of celebration for Braylee- she called it "Special Body Day"." – Braylees Parents
Help support kids like Braylee- Stay tuned for a RARE Sale on Feb 28th- Rare Disease Day. Check out POPPIN TAGS BOUTIQUE Facebook page!
#LCHADWarrior #ShowYouCare #RareDiseaseDay2019 #RareAngel #WeLoveATUBIE #SpecialBodyDay